Minecraft Bedrock Vanilla Addons / Resource Packs That Enhance Your Survival Experience
Looking to add up more enjoyment to your Minecraft survival experience? Do you play Minecraft on Mobile or other Bedrock edition devices? You've come to the right place!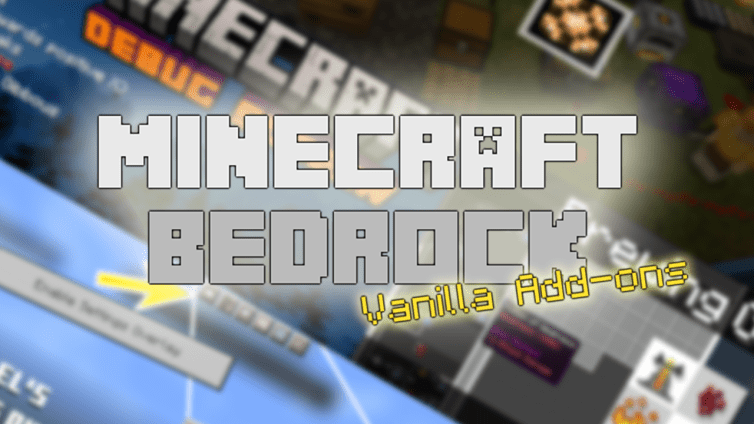 In our previous article, we've introduced Minecraft vanilla mods that help you to have a better experience playing in survival mode. We've also mentioned the vanilla mods aren't going to add anything new or change the normal behavior in-game. So these addons that we're going to showcase! That means these addons are completely client sided and you can use them on your favorite survival worlds, without turning on cheats and losing your achievement progress. At this point you may already know, all of these addons/resource packs are for the Bedrock edition of the game (Windows 10, Android, Xbox, etc…). The focus of this article is to improve the playing experience of Minecraft for all platforms of the Bedrock version, especially the mobile versions of the game, to match closer to the Java version of the game.
Before we start, if you've found any of these addons interesting, make sure to check out their respective sources for a better showcase and full description. If you find any alternatives to these packs or have a similar mod in mind for the Java edition of the game, you can come and let us know on our Discord server!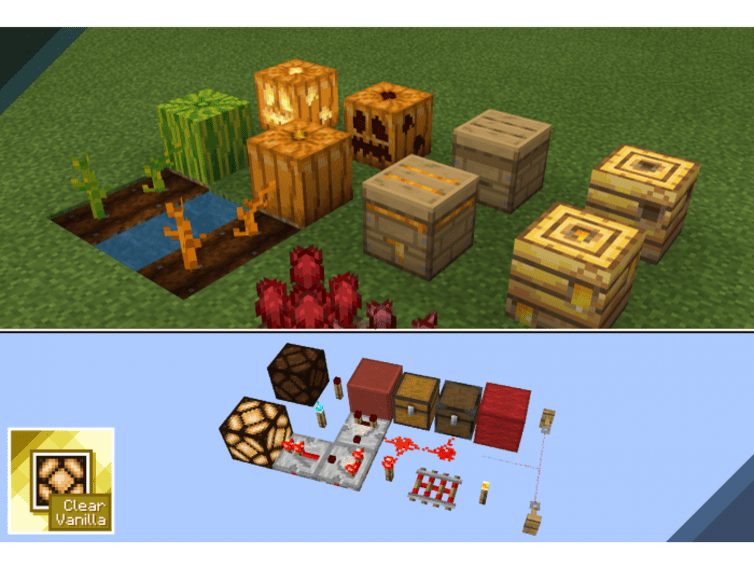 1. Clear Vanilla (by Tal Melamed)
You may have seen people using one of the greatest vanilla resource packs of all time, made by the Vanilla Tweaks team, which is only available on the Java version of the game. But what if we tell you most of the useful features of that resource pack are made available for use in the Bedrock edition of the game as well! With this pack, you have the redstone tweaks like where the hoppers or droppers are facing, tweaks for crops and nature like differentiating the melon and pumpkin stems or seeing if the bee hive or bee nest is ready for harvest, changes for some textures to better match the aesthetic of the game, and many many more! You can see more about this pack here.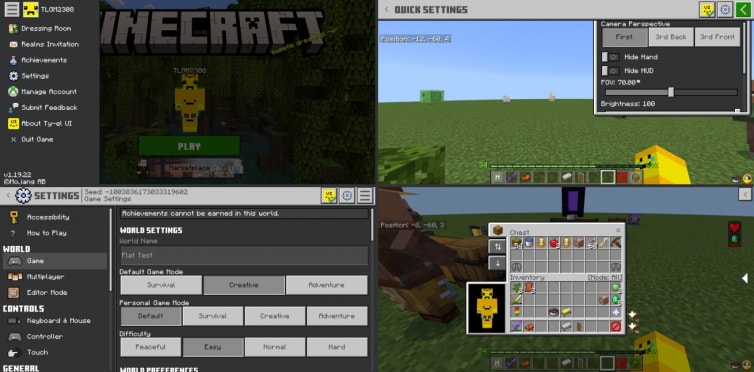 2. Ty-el's UI Pack (by real_tlgm)
It's been a long time since Minecraft Bedrock's UI is being updated to a better-looking version. It started with the new look for the achievement screen early in the nether update, to the recent world-creating menu for the wild update. But if you feel this is taking too long to ditch the old menus of the game, you can absolutely try this addon. This pack overhauls the GUI menus of the game to match better with Minecraft's new UI changes, with many extra tweaking features that would come in handy, especially for Mobile users. The menus are easier to navigate, the buttons help you to change your settings faster, tweaks to see the percentage of item durability or XP levels or even the boss health, and best of all, it also has inventory management buttons that make your job at taking or putting the items ten times easier! I can't tell how many features this addon has. It's like you've combined multiple packs into one and tweaked your playing experience a ton. So please make sure to check out this addon from here.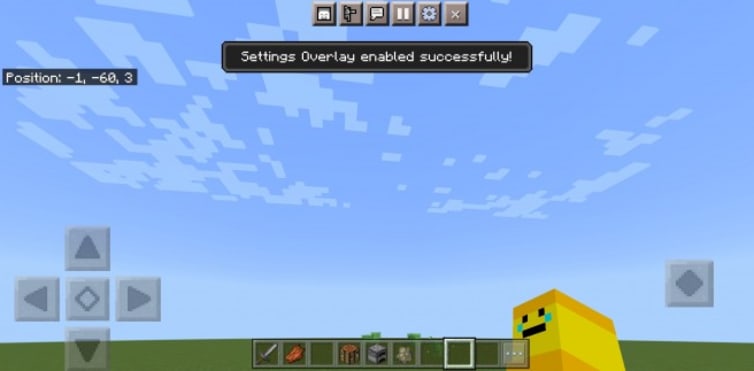 3. Ty-el's Settings Overlay (by real_tlgm) [Touch Devices Only]
Another great work of tlgm2308 is here to let you play Minecraft on your touch device like you could with the console or even the PC version of the game. For example, you don't need to go to your settings, find the camera perspective option under video settings and change it when you can just do it with a tap of a button. You can also hide your HUD fast and easily to take your best screenshots. You can download this pack from here.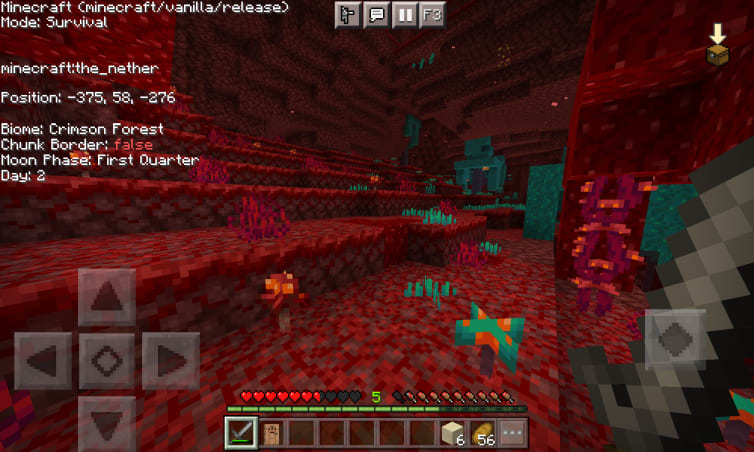 4. Debug Screen Resource Pack (by LukasPAH)
People in the Bedrock community have always wanted something like the F3 debug screen of Java edition, not just always showing coordinates in the corner of the screen. The good thing is LukasPAH was the one who made the famous Java Debug Screen Addon for the Bedrock edition of the game. The better thing is this one is client-sided and does not require a behavior pack to function. The bad thing is due to the Bedrock limitations, as of now, the information that this resource pack can provide is not as much as Java's F3 debug screen, but it has the useful information that most of us would use. If you want to know more, make sure to read all the information and then get it from here.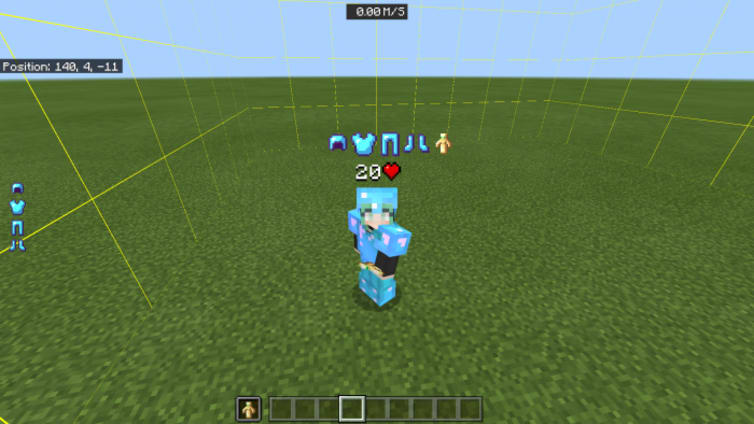 5. Utility HUD (by ambient)
Another quality-of-life addon that not only brings some of the features you could've used in the Java version of the game, but gives you more accurate information about many things you'd normally do in-game. For instance, you can see the chunk borders, mobs health, your walking speed, etc… Almost everything you can normally have in the Java edition, but here in the Bedrock edition. This pack is very useful for the PvP style of playing the game, the information like percentage of eating or maybe what you have equipped in your armor/offhand slots does come in handy in fighting situations. Learn more about this pack and how to get it from here.
Honorable mentions:
Brewing Guide UI (by CrisXolt)
A pretty self-explanatory title. The brewing guide is available as a separate part of the brewing stand GUI and it doesn't replace the general guide section of the game with its information (for example, unlike how the Redstone guide pack works).
CrisXlot is a talented UX developer for the Bedrock community that has made several amazing UI packs, including the famous Vanilla Deluxe: Java UI pack.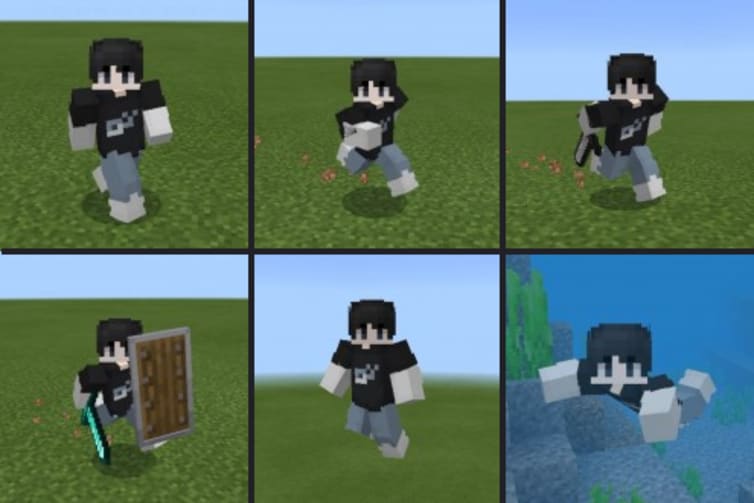 New Player Animations (by KID丶SKY)
This addon doesn't change anything significant about the game, nor does it require a behavior pack to function. It just makes you feel better when you are doing stuff, instead of the regular punching and the walking animation that we used to see as always. If you're looking for a refreshed and alive from those stable animations of the game, this pack is worth the try.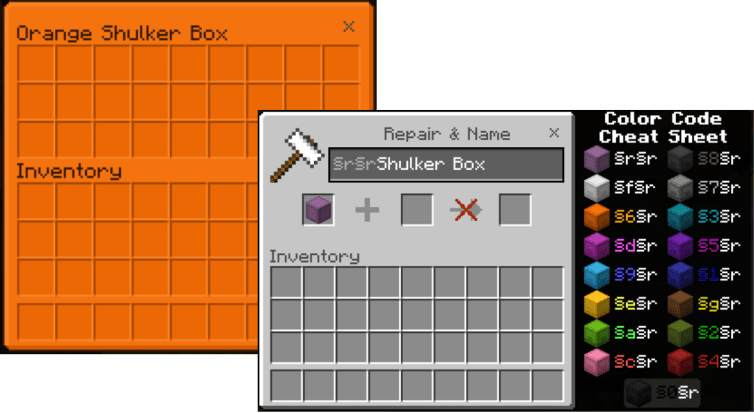 Color Coded Shulker Box GUI (by LukasPAH)
When opening a Shulker box, with the collaboration of the GUI color and your brain, you can recognize what has been inside that Shulker box faster. Although you should rename your Shuker box for this anyway. This was another tiny tweak, can't expect more than this out of it. Here's what you should know and where to get this resource pack from.
All of these addons/resource packs are great creations that the Bedrock community has made for themselves for absolutely free and out of their own enjoyment. Credits to all of these creators for doing a great job by letting us experience playing Minecraft on any platform better and closer to the PC version, the Java edition. I'm sure there are also more quality of life and vanilla addons/resource packs out there, so again, if you know more and better addons, come and hang out in the Crafty's Discord server and let us know!